3D Page Curl Effect - Updated
22 Apr 2007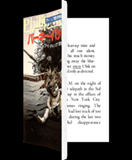 Click to run demo
A few improvements have been made enhancing visual quality as well as overall framerate under load, plus a few presentation and interface-related tweaks.
The main class file for the effect has been updated as well.
Thanks to Carlos Ulloa and Alexander Zadorozhny for their thoughts on the Papervision3D mailing list.